3-year warranty for >90% of our illumination products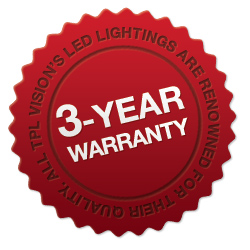 All LED illuminations from TPL Vision are made with high quality materials and trusted manufacturing techniques. Occasionally, a failure does occur. For this reason, most of TPL Vision's products carry a 3-year warranty.
Our warranty procedure outlines that TPL Vision is committed to repairing or replacing defective parts if a manufacturing or a material defect occurs (once it has been validated by our team).
For information, the white (WHI), blue (470nm), green (525nm), red (630nm) and infra-red (850nm) products have a lifespan of 50 Kh in continuous mode (ambient air = max 40°C). The lifespan of the ultraviolet (≤ 405nm) products reaches 10 Kh in continuous mode (ambient air = max 40°C).
EXCEPTIONS:
products which are not sold under TPL Vision brand → get the MANUFACTURER warranty period.
UV products with a wavelength under 420nm → get a warranty period of 1 YEAR.
products provided without a control current drive embedded → NO WARRANTY. We do not have any control on how the customer supplies the product.
For any after-sales service request, please complete the form below.
Our team will get in touch with you quickly.
Please find below examples of S/N on our products :