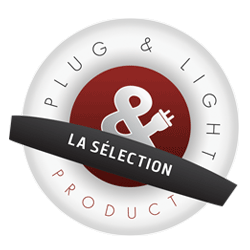 The Plug & Light label, developed by TPL Vision, is both a quality charter for the company, and a reference for its customers.
All products, labelled Plug & Light, gather some features that facilitate an easy setting and also an easy use. They benefit from the same quality of conception, are customizable with a certain number of options (color, lens, diffuser) and are perfectly compatible with industrial standards. This new label is part of TPL Vision's will to make all its lightings work the same way.
All lightings with the Plug & Light label can be installed without any prior setting. Equipped with just 3 wires (power, strobe, ground), the light can be plugged on a 24V power supply, and it automatically works, in continuous or strobe mode. All of them have M12 4 poles male connector, industrial standards in the automatism area.
Features:
NO PRIOR SETTING,
CONTINUOUS OR STROBE MODE,
CONNECTION TO 24V POWER SUPPLY,
M12 5 POLES MALE CONNECTOR.